Balanced-Mixed funds post second outflow in 2019
The investment fund industry raised R$44.9 billion in May, improving its performance in relation to April, when there was net outflow of R$15.3 billion. In the year to date, the fund industry raised R$86.5 billion against R$66.9 billion in the same period of 2018.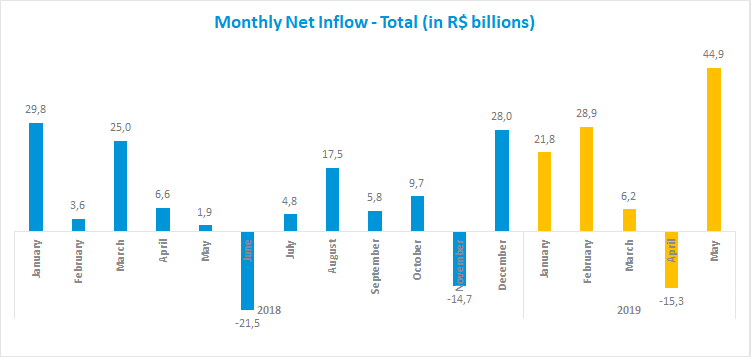 The result in the month is explained by the one-off and concentrated movement in the FIDC classes, which saw net inflow of R$37.7 billion, the highest since January 2011; and in the Fixed Income class, which ended May with net inflow of R$10.6 billion, driven by the R$19.9 billion raised by a single fund in the last days of the period.
Excluding those specific transactions in May, the positive highlight was the Equity class, with a R$2.4 billion net inflow. The most representative type, Equity - Free Portfolio, saw inflow of R$1.5 billion. The figures suggest investors are seeking more diversification, reflecting the perception that interest rates will remain low for a longer period.
The Balanced-Mixed class's performance in May corroborates this trend. The class posted net outflow of R$5.1 billion, the second consecutive month of negative result. In the year to date, Balanced-Mixed funds posted net inflow of R$3.7 billion compared with R$45 billion in the year-ago-period.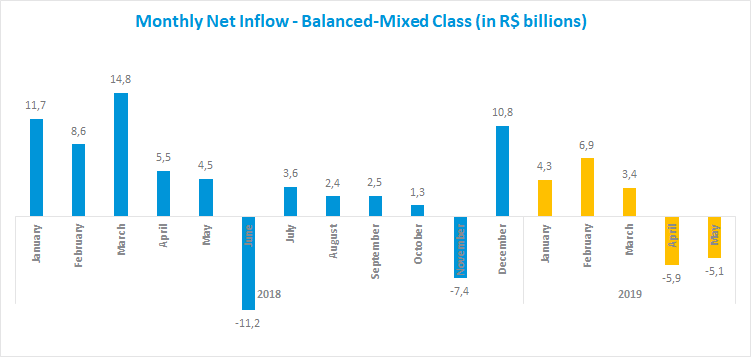 Most of ANBIMA funds showed positive return in May, mirroring a price correction after the increased bets on a reduction in the Selic rate later this year. The ANBIMA funds focused on longer-term assets showed the best returns. The types Fixed Income - Long Duration Sovereign and Investment Grade posted returns of 2.69% and 1.5%, respectively. Within the Balanced-Mixed class, the Macro and Free types yielded 1.26% and 1.03%, respectively. In the Equity class, the Free Portfolio type, which has the largest net assets in the group, showed return of 1.74% in the month.