Brazil mutual funds attract R$26bn, with inflows for second month in a row
Investors allocated R$26.1 billion into mutual funds in August, the second consecutive month of net inflows in 2023, trend not seen since April last year, shrinking losses to R$76.3 billion in the year.
Fixed-income funds grabbed the lion's share among asset classes with net buying of R$22.4 billion in August, the largest influx since March last year. Among types, the Fixed-Income Short Duration/Investment Grade, which invests at least 80% of its portfolio in federal government bonds or low-risk debt, attracted R$11.8 billion, little more than half of total net purchases.
The Fixed Income-Free Duration/Free Credit came next, with net inflows of R$6.8 billion. The fund can allocate more than 20% of its portfolio into medium and high-risk bonds both in the domestic and foreign markets.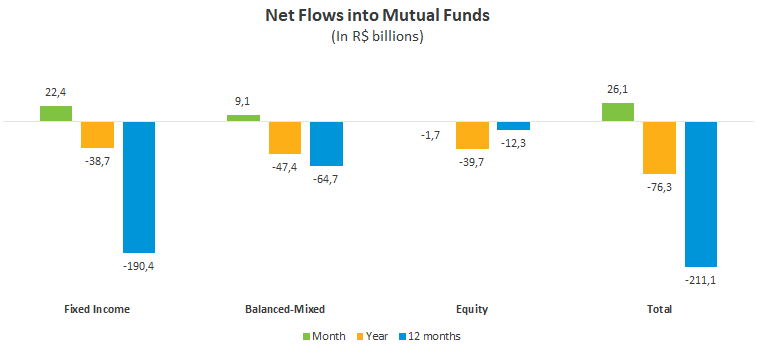 As for structured vehicles, the FIDCs (Credit Receivables Investment Funds) recorded outflows of R$7 billion in the month, as the result of a withdrawal from a single fund. Flows in the year and 12 months remain in the black (R$6.1 billion and R$29.4 billion, respectively). FIPs (Private Equity Funds), in turn, received net purchases of R$918.3 million in August and R$39 billion in the year.
The Balanced-Mixed class attracted R$9.1 billion in August, also due to a move of a single fund. The Balanced-Mixed/Free fund posted net inflows of R$9.1 billion in the period, followed by the Balanced-Mixed/Foreign Investment, which received R$2.6 billion. The asset class still shows withdrawals of R$47.4 billion in the year and R$64.7 billion in 12 months.
Even amid expectations of monetary easing in Brazil, the Equity class hasn't ended a single month in positive territory this year, showing losses of R$39.7 billion since January and net redemptions of R$1.7 billion in August. Among the most representative fund types, Equity/Free Portfolio, which holds the largest net assets, saw outflows of R$1.5 billion.
As for returns, the Equity/Free Portfolio lost 4.24% in August but shows a 10.9% gain for the year. In Fixed Income, the Short Duration/Investment Grade, with the largest assets in the class, returned 1.23% in August and is up 8.48% in 2023. In the Balanced-Mixed class, the Free type rose 0.12%, while the best-performing Interest and Currency fund delivered a 1.02% return in August.