Bright economic outlook keeps funds' return on positive territory
The investment fund industry posted net capital inflow of R$22.5 billion in July. With this result, the segment shows net inflow of R$161.7 billion year to date, more than triple the amount raised in the same period last year, at R$50 billion. Balanced-Mixed and Equity classes lead fundraising in 2019 with R$37.9 billion and R$ 32.6 billion, respectively*.
As for fundraising by classes in July, Balanced-Mixed funds saw the largest capital inflow, totaling R$16 billion, followed by the Equity class, which raised R$6.7 billion. Highlights in the Balanced-Mixed class were the Free and Macro types, with net inflows of R$10 billion and R$1.8 billion, respectively. Among the Equity class, which saw its tenth month of net capital inflow in a row, the largest amount was raised by the Free type, at R$3.9 billion. In the Fixed-Income class, the Indexed type had net inflow of R$5.8 billion.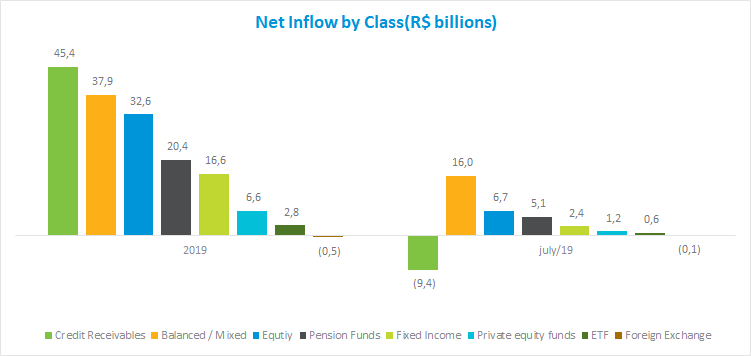 The passage of the pension reform in a first vote in the lower house on July 12 and the confirmation of a lower interest rate environment kept both fixed income and equity assets attractive to investors. In this context, most types of funds posted positive returns in July but lower compared with June, when expectations of further rate cuts began to be priced.
In the Equity class, 10 of the 12 types had positive returns. The most representative types -- Foreign Investment, Active Index and Free Portfolio -- gained 4.76%, 4.12% and 3.58%, respectively. All types that make up the Balanced-Mixed class ended July with positive returns: the highest was in the Long and Short - Directional, with return of 1.52%. Still in this class, the Free and Macro types, with the largest assets, yielded 1.14% and 0.67%, respectively.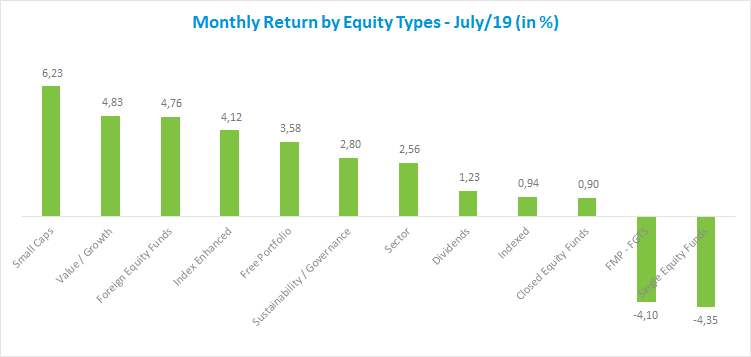 *The FIDC class raised the largest amount year to date through July, but they were concentrated transactions that did not reflect a structural movement of the class.