Fund industry shows capital inflow in February
The investment fund industry ended February with net inflow of R$24.8 billion, up 57.7% compared with January. Despite the strong performance, the figure mirrors atypical movements in certain industry classes.
In the Pension Fund class, the R$7 billion net inflow in the month is explained in large part by the change in the classification of some fixed-income funds that started being grouped as pension funds. Another one-time event occurred within the FIDC class, which raised R$14.3 billion in the period, concentrated on only a few institutional investors.
As for the Fixed-Income class, a single fund was responsible for an outflow of more than R$17 billion. In addition, with the change in the classification of Fixed Income to Pension Fund, the class ended February with the industry's worst result, with a R$9.2 billion outflow.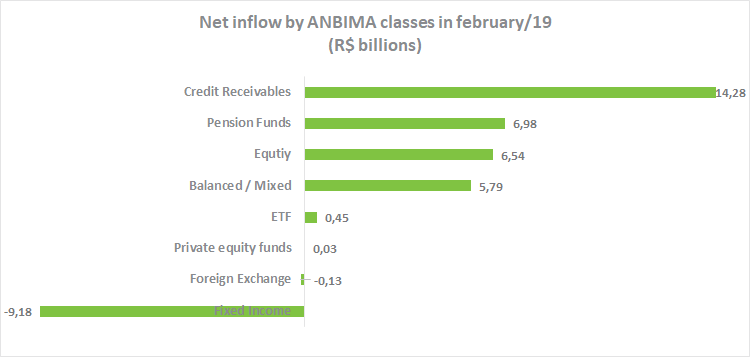 All markets faced strong volatility throughout February, reflecting uncertainties in the domestic political and economic fields, and with a still-challenging external outlook. Stock market benchmark index Ibovespa ended the month down 1.9%, while the IMA General, which tracks marked-to-market government bonds, gained only 0.5%. In the foreign-exchange market, the real reversed its rising trajectory against the dollar and fell 2.4% in February.
Yields were dispersed in the types that make up the Balanced-Mixed class, where the categories with the largest net assets, Foreign Investment and Free, yielded 0.59% and 0.30%, respectively. In the Fixed-Income class, the Foreign Debt type posted the highest return, with a 2.05% gain in the month, mirroring the real's devaluation against the dollar in February. In the Equity class, only two types posted positive returns, the Equity - FMP-FGTS (2.05%) and the Single Equity Fund (1.08%), which concentrate their investments on only a few stocks. The type with largest net assets within this class, Equity - Free Portfolio, had negative return of 1.22% in the month.