Capital market offerings rise 40% in July to R$34bn
Issuances in the capital market raised R$34 billion in July, up 40.1% over the previous month. It was the second highest monthly amount of the year, surpassing April and with a smaller share of usually short-term securities, such as commercial papers. The year-to-date result, however, was below the amount seen in the same period last year, down 20.7% to R$185.5 billion. Ongoing and under analysis offerings have expected amounts of R$11.3 billion and R$4.2 billion so far, respectively, and the latter excludes share offerings.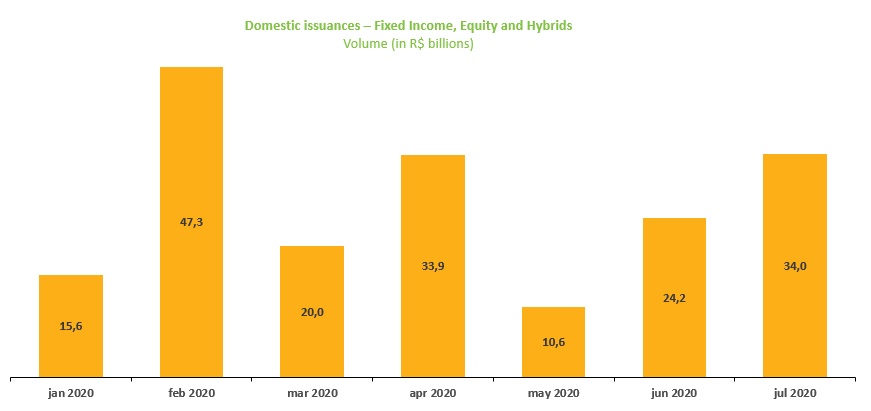 Debenture offerings, which declined 40.8% from the previous month, remain the instrument with the largest slice among issuances this year at 29.5%. Issuances with DI + spread return are still predominant (73.3% year to date against 46.9% in the same period in 2019). The most significant reduction was seen in securities with return based on the DI percentage, which in the period fell to 1.3% from 37.8%. IPCA bonds rose for the first time after the pandemic hit to 15.8% from 15.1%.
Among subscribers to public debenture issuances, intermediaries and participants linked to offerings have kept the largest share, with 85.2% of the total placed, followed by mutual funds, with 9.8%. The proceeds have been predominantly destined for working capital (34.1%) and refinancing of corporate liabilities (32.7%, also considering buybacks or redemption of debentures previously issued).
In the equity market, the highlights were seven share offerings in July, the highest monthly figure for such transactions in 2020, which amounted to R$13.9 billion. The most relevant offering was that of Lojas Americanas, totaling R$7.9 billion. Secondary offerings led the segment with R$45.4 billion raised – matching the amount in same period last year – and accounting for 24.5% of the total issued in 2020.
Real estate funds raised R$4.5 billion in July, confirming the segment's good performance this year even amid the pandemic. They raised R$23.1 billion year to date, up 48.7% from the same period last year.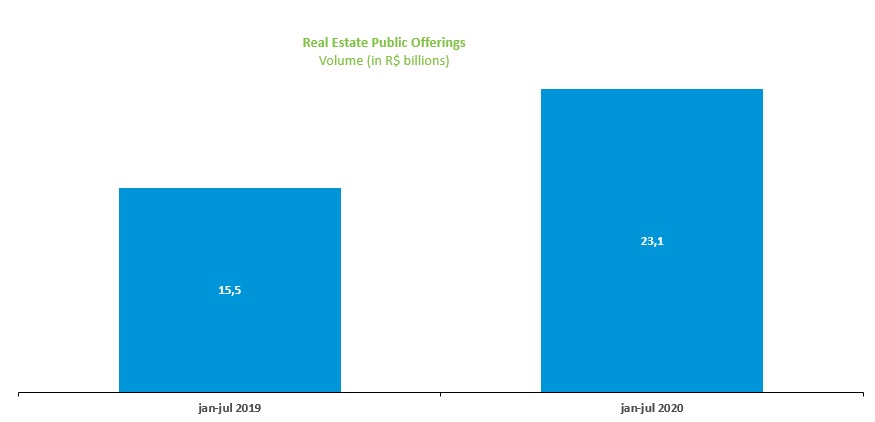 Seven offerings took place overseas in July, all in fixed income, totaling $3.7 billion (48.2% more than in the same period in 2019). Twenty bond and share offerings have been placed abroad up to July against 21 a year ago.