Capital market raises less money in August and year to date
Capital market issuances raised R$27.7 billion in August, down 18.3% from the previous month. The year-to-date amount also fell, to R$213.3 billion, or 17.3% below from a year ago. Offerings in progress and under analysis have expected volumes of R$8.5 billion and R$4.5 billion so far, respectively, and the latter excludes debentures and shares. The low interest rate environment and less volatility compared to early in the year have been driving offerings in equities and securitization, structured-related products, marking a new profile in segment in the second half.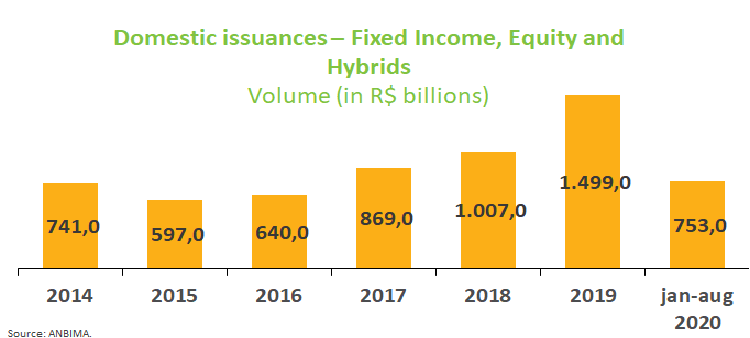 Equity transactions (initial public offerings + secondary share offerings) already account for 29.1% of the total issued in 2020. Three IPOs took place in August, totaling nine transactions since January, almost double from the same period last year (five transactions), in addition to an IPO in progress and several other transactions under analysis at CVM. In the year through August, primary issuances totaled R$35.1 billion, while secondary offerings reached R$27.1 billion. If this share is maintained, it will be the first time since 2017 that primary share offerings will exceed secondary ones in the year.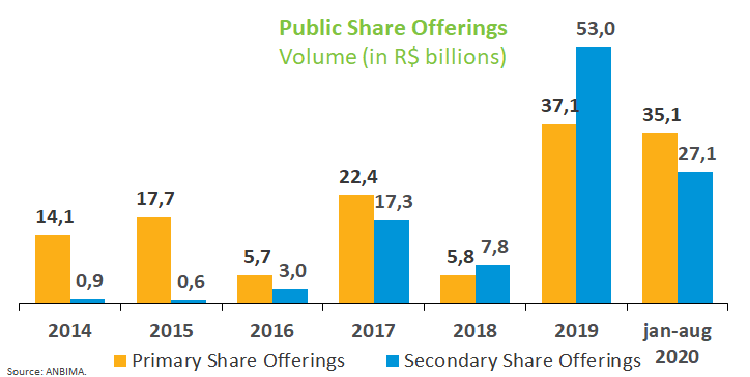 Securitization-related issuances have shown resilient performance amid an environment of volatility and uncertainty in the past months. Issuances of CRIs, CRAs, FIDCs and real estate funds totaled R$67.3 billion through August, up 27% from the same period in 2019, and already account for 31.6% of this year's issuances. The highlight are real estate funds, which raised R$27.4 billion, a 44.5% increase over the same period last year.
Debenture offerings rose 72.9% in August from July, totaling R$10.2 billion. In addition, these assets account for the lion's share of issuances in 2020, with 30.4% of the total. Despite the recovery this month, the debenture distribution profile remains concentrated in portfolios of intermediaries and participants linked to offerings, which represent 79.9% of total issuances, followed by investment funds, with 13.3% of the total placed. These funds were allocated to working capital (35%) and to refinancing companies' liabilities (34.2%, also considering buybacks or redemption of debentures previously issued).
There were no foreign issuances in August, neither in fixed income nor equities for the first time since May.