Debentures account for 66% of issues in 2018
In the year through October, capital-market issuances totaled R$187.8 billion, up 17% from a year ago, when the amount raised reached R$160.6 billion. Debentures continue to stand out in the segment, raising R$123.4 billion in the January-October period and accounting for 65.7% of total issues; followed by commercial papers, whose issues amounted to R$24.2 billion. It is worth noting that since August 2018 the volume of debentures issued was already the largest in the historical series. The prospects of a gradual economic recovery starting next year – the ANBIMA Macro Committee forecasts GDP growth of 2.5% – could create a more favorable environment to boost new corporate issues while bringing back share offerings.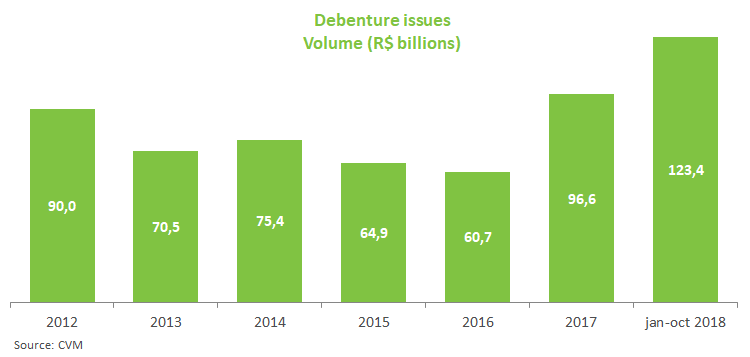 In October, however, uncertainties arising from the electoral race increased investor caution and restricted securities issues. The monthly volume issued totaled R$8.4 billion, the lowest in the year and a 38% drop compared with September. Debenture issues raised R$5.4 billion in October, a 46% decline against the R$10.1 billion in the previous month.
In terms of allocation of debentures issued this year, 61% are meant for refinancing liabilities (36.6%) while working capital accounts for 24.2% of the total. Another highlight in 2018 are the infrastructure bonds (18.7%), which are tax exempt; and those related to the investment or acquisition of equity stakes, accounting for 9.2%, the highest share of such securities in total emissions since 2015.
Infrastructure debentures, through Law 12,431, raised R$21.6 billion up to October, compared with R$8.7 billion in the same period last year. Individuals, who are income-tax exempt when investing in such bonds, had a lower participation and acquired 18.1% of the total, compared with 39.2% in the same period of 2017. Intermediaries and other participants related to the offering are the largest subscribers to such securities, with 45%. This subscription trend is recent. In the January-October period last year, these investors held 29.3% of the volume offered.