Institutional investors share in stock offerings rises to highest since 2014
Domestic capital market issuances – excluding public offerings not closed - raised R$7.2 billion in May, down 77% from the previous month. Year-to-date offerings amount to R$93.1 billion against R$95.9 billion in the same period in 2018, totaling 272 transactions compared with 347 a year ago.
Debenture offerings dropped 91% in May from the volume issued in April (R$2.2 billion against R$24 billion). In the year to date through May, debenture issuances raised R$52.7 billion compared with R$59.8 billion a year ago, a 12% decline. All securities were placed through Instruction No. 476, with the largest offering in the Holding Companies and Private Equity segment (R$1.2 billion); two transactions in the IT and Telecommunications segment (R$400 million); and the rest issued in the Sanitation, Real Estate Services and Other Services group. There was no record in May of tax-exempt debenture offerings, issued through Law No. 12,431.
Institutional investors held until May the largest share in public debenture offerings, with 73.1% of the total compared with 63.1% in the same period of 2018. In the year to date through May, these investors accounted for 75.5% of the demand for debenture offerings through Instruction No. 476 and for 37.4% through placements through Instruction No. 400. In the offerings via Instruction No. 400, individuals held the largest portion, with 58.9%.
As for stock offerings, the share of institutional investors rose to the highest since 2014, accounting for 47.3% of the volume placed year to date against 51.9% of foreign investors. This movement is confirmed by the increased presence of such assets in the investment funds' portfolios in May (see the INVESTMENT FUND REPORT). In relation to the same period last year, foreign investors held 63.6% of the total, while institutional investors had 28.1%.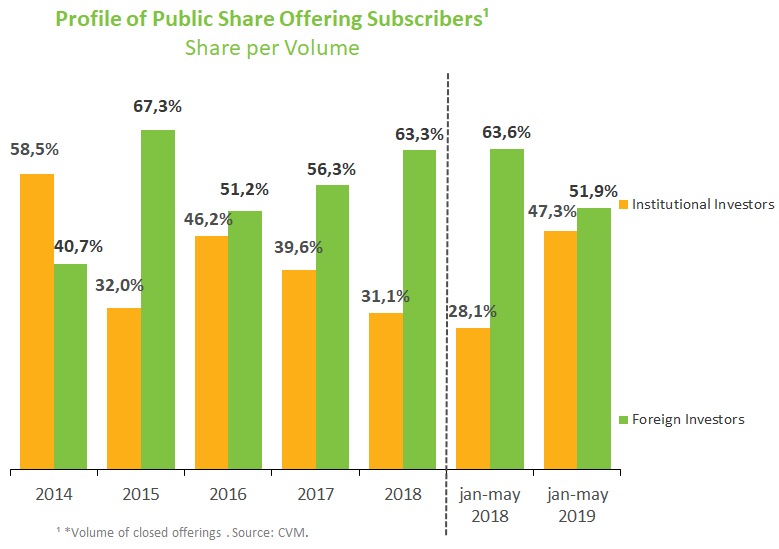 Compared with the same period of 2018, only Financial Bills, CRAs (Agribusiness Receivables Certificates), stock offerings (follow-ons) and FIIs (Real Estate Investment Funds) saw an increase in the volume issued.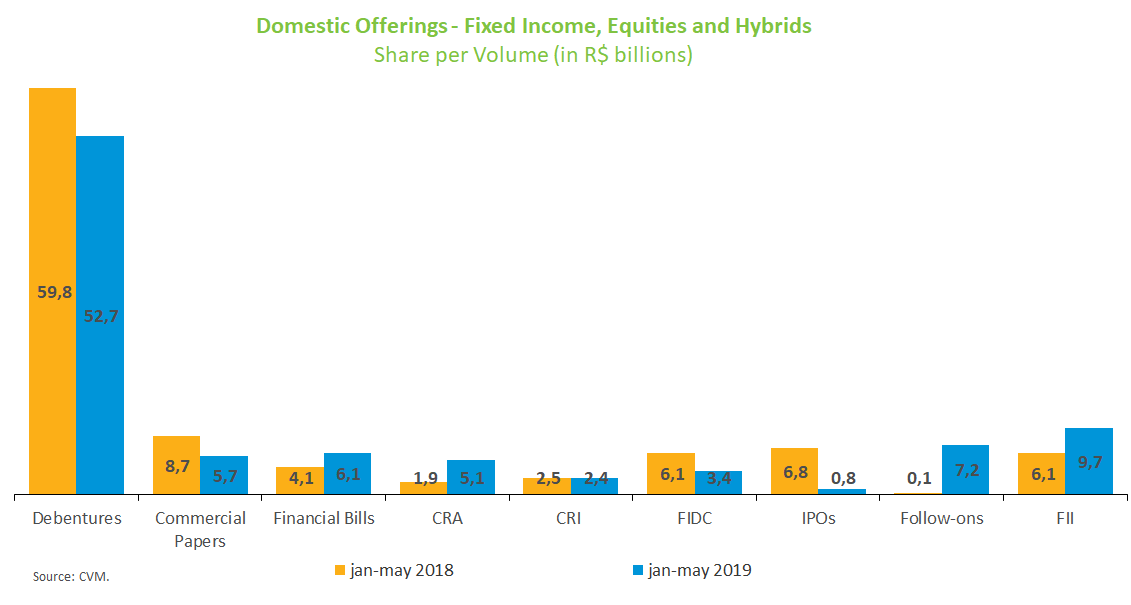 In the foreign market, there were two bond issues of Suzano Celulose totaling $1.25 billion. In the year to date, the amount issued totals $10.6 billion, still lower than the volume raised a year ago ($12.9 billion).