Petrobras debenture offering stands out in February
Capital-market offerings raised R$8.8 billion in February, down 40% from the previous month. In the year-to-date result, funding amounted to R$23.4 billion compared with R$18.8 billion a year earlier. In the first two months of 2019, there were 84 transactions against 92 in the same period last year. Debentures accounted for 51% of domestic issues in February, raising R$4.5 billion; follow-on offerings came next with a 29% share (R$2.5 billion), while Real Estate Investment Funds (FII) accounted for 8% of the total and raised R$657 million.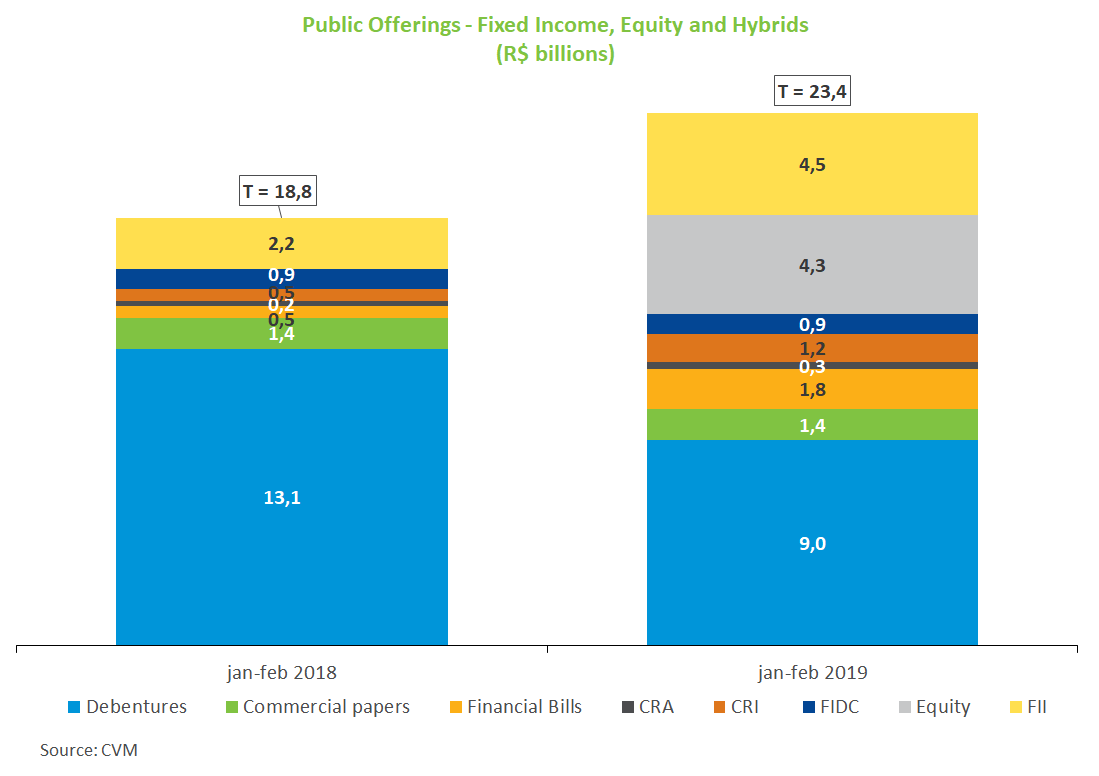 It is worth noting that, in February, debenture offerings through Instruction no. 400 surpassed issuances under Instruction no. 476 for the first time since February 2013. The result was driven by a single transaction, with Petrobras raising R$3.6 billion through a debenture offering and accounting for about 80% of all issuances with this instrument. In the year to date, debentures represent 39% of domestic funding; follow-ons and FII come next with 19% each.
The tax-exempt debentures, issued through Law 12,431, raised R$3.1 billion in February, totaling R$3.3 billion in the year to date. The Petrobras's offering had the lion's share, with R$2.6 billion.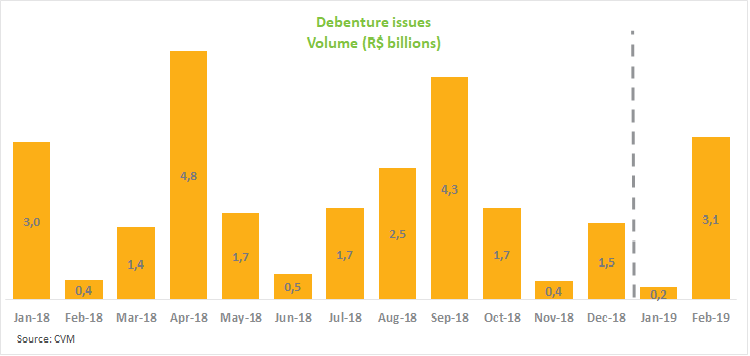 In the public debenture offerings for the first two months of 2019, institutional investors held the largest share with 59.8% compared with 44.4% in the same period last year. Intermediaries and participating institutions linked to the offering held 29.8% of the volume offered compared with 50.2% in the first two months of 2018. In the issuances via Instruction no. 476, the institutional investors' slice is even more relevant, corresponding to 63.6% of the total.
Like in January, there was a single transaction overseas, with the $600 million bond sale of BTG Pactual. In the year to date, the amount raised abroad reached $1.35 billion compared with $9.1 billion in the same period of 2018.